Regular price
Sale price
$24.99 USD
Unit price
per
Sale
Sold out
🌈🍍 Celebrate love, pride, and vibrant living with our "The Gays Kush Candle." This lively candle is a jubilant tribute to the spirit and joy of the LGBTQ+ community. Infuse your space with the zesty, uplifting scents of mandarin and island pineapple, creating an atmosphere that's as bright and bold as the rainbow itself. Crafted with 100% soy wax, this 13-ounce candle boasts a clean, long-lasting 90-hour burn, ensuring your space stays lit with positivity and warmth. The cotton core wick provides a consistent flame, perfect for setting the mood during celebrations, quiet nights in, or as a daily reminder of love and inclusivity. Whether you're gifting it to a loved one or lighting it in your own home, "The Gays Kush Candle" is more than just a candle; it's a statement of support, pride, and joyous life.
Why It's Lit:
🍊 Tangy Mandarin & Pineapple: A scent combination that's as lively and refreshing as a tropical paradise.
🌱 Eco-Friendly Elegance: Soy wax ensures a cleaner burn, making it a responsible and sustainable choice.
🕯️ Long-Lasting Light: Enjoy its glowing presence for up to 90 hours, perfect for extended celebrations or relaxation sessions.
🎁 Gift of Pride: Ideal for showing solidarity or celebrating the LGBTQ+ community and its allies.
Ignite the The Gays Kush Candle and let its radiant fragrance fill your home with a sense of pride, love, and tropical bliss. 🌈💖 #PrideCandle #LGBTQSupport #FruityFragrance
Product Details
Scent: Mandarin & Island Pineapple
Made with: 100% Soy Wax
Burn Time: 90 Hours
Weight: 13 ounces
Wick Type: Cotton Core Wick
View full details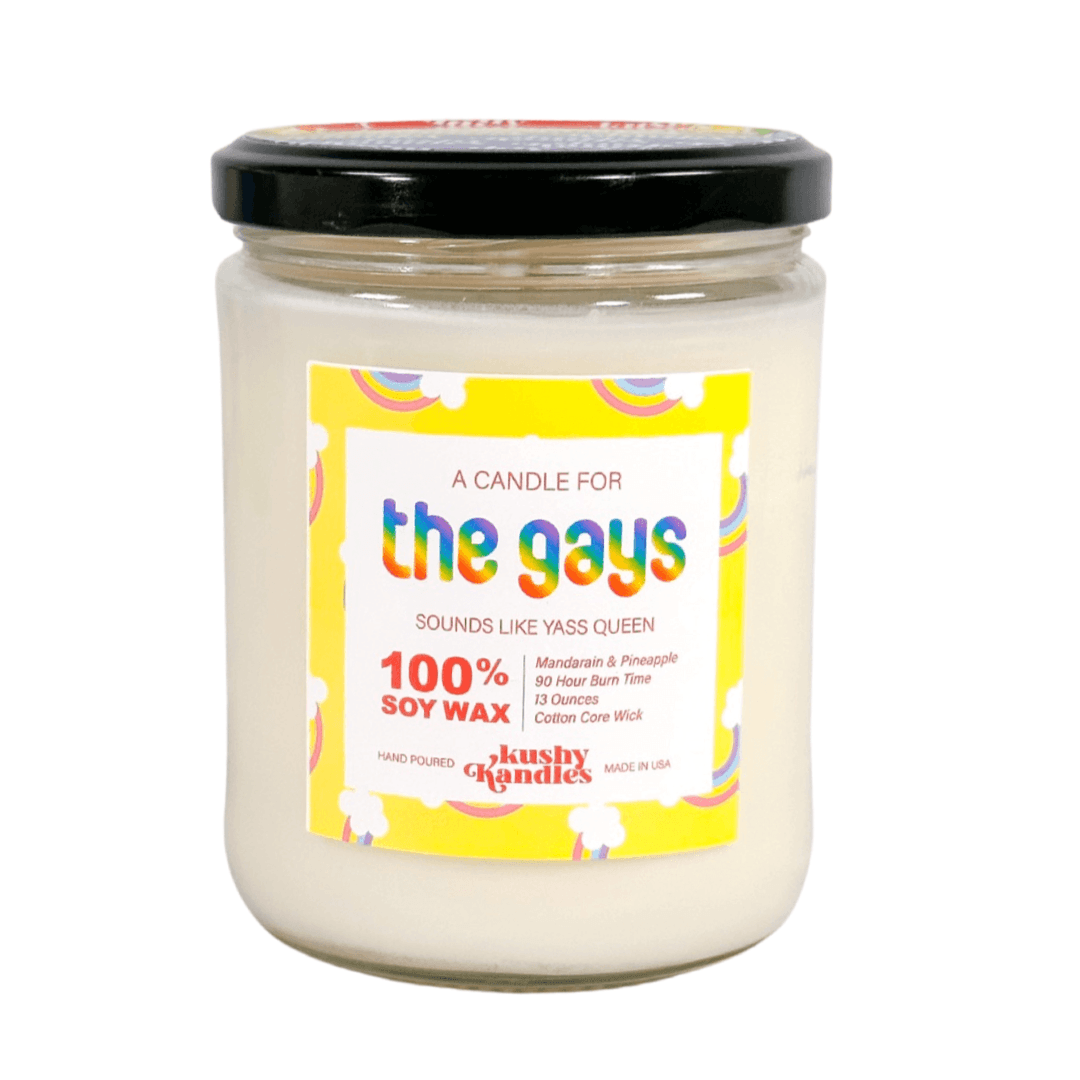 Wrapping Paper
Tired of boring gift wrap? Make any gift worthy of the 'gram.