Regular price
Sale price
$5.99 USD
Unit price
per
Sale
Sold out
Turn up the nostalgia with our Greatest Hits Cassette 📼 Kush Charm! This acrylic charm is a blast from the past, featuring a retro-style cassette tape with "greatest hits" written on it. It's the perfect accessory to add some old-school charm to your keychain, bag, or anywhere you want to spread the love for timeless tunes.
Why It's Lit:
🎶 Retro Reverie: Our Greatest Hits Cassette 📼 Kush Charm captures the essence of vintage vibes, inviting you to groove on to the classic beats and share the love for timeless music.
📸 Share the Groove: Whether you're creating nostalgic TikTok jams or sharing Instagram-worthy moments, this charm is your go-to prop to showcase your appreciation for the classics.
🎁 Perfect Gift: Looking for a gift that speaks volumes to your fellow music enthusiasts or old-school souls? This charm is sure to strike a chord with them!
👜 Easy Attachment: With a breeze-to-use clasp, you can effortlessly attach this charm to your keyring, purse, or groove-infused accessories, making it an essential part of your musical journey.
🌈 Durable Design: Crafted from high-quality acrylic, this charm is designed to keep up with your groove sessions, ensuring it becomes a cherished part of your retro revival.
🌟 Playful Music Spirit: Whether you're cranking up the volume, collecting classic cassettes, or just embracing the magic of timeless tunes, the Greatest Hits Cassette 📼 Kush Charm adds a playful rhythm to your style.
Groove on and embrace the timeless tunes with the Greatest Hits Cassette 📼 Kush Charm. Grab one today and let your musical spirit shine in every post, story, and jam session. Because when it comes to music, the classics never go out of style! 🎶🌼 #RetroRevival #GrooveOn #TimelessTunes #StayCharmin
Product Details:
Material: Acrylic 
Size: 1" x 1" 
Black Lanyard Strap with Lobster Clasp
View full details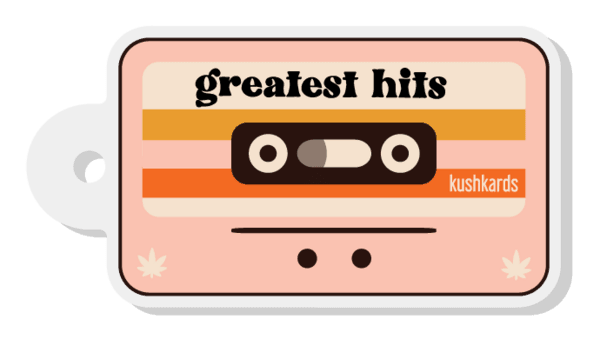 Wrapping Paper
Tired of boring gift wrap? Make any gift worthy of the 'gram.