Regular price
Sale price
$4.99 USD
Unit price
per
Sale
Sold out
Fa la la la la, Deck The Halls with these Balls! 

Get ready to jingle all the way with our "Deck The Balls" Christmas Card! Perfect for spreading cheeky cheer and festive fun, this card is a holiday must-have for anyone who loves a good laugh and a touch of irreverence. 🎄😄
Why It's Lit:
🎉 Ballsy Humor: Packed with playful puns and ballsy jokes, this card takes a classic Christmas lyric and turns it on its head, guaranteeing giggles.
🎨 Festive Design: Adorned with colorful Christmas ornaments, the card captures the holiday spirit while adding a dash of cheeky charm.
💌 Smooth Sentiments: Printed on silky-smooth cardstock, your festive wishes will not only look good but feel good too.
📸 Insta-Worthy: This card is made for social sharing! Snap a pic, post it up, and watch the likes roll in as your friends and followers get a good chuckle.
✨ Stand Out from the Stack: In a sea of traditional holiday cards, "Deck The Balls" promises to be the one that gets remembered, laughed about, and talked about long after the holidays are over.
Ditch the ordinary and go for extraordinary with the "Deck The Balls" Christmas Card. It's the perfect way to send big holiday vibes and even bigger laughs. So grab yours and let's get this holiday party started! 🎊🎁 #DeckTheBalls #HolidayLaughs #CheekyChristmas
Product Details
Size: 4.25" x 5.5" (A2)
Included: Card, Envelope, Plastic Packaging 
View full details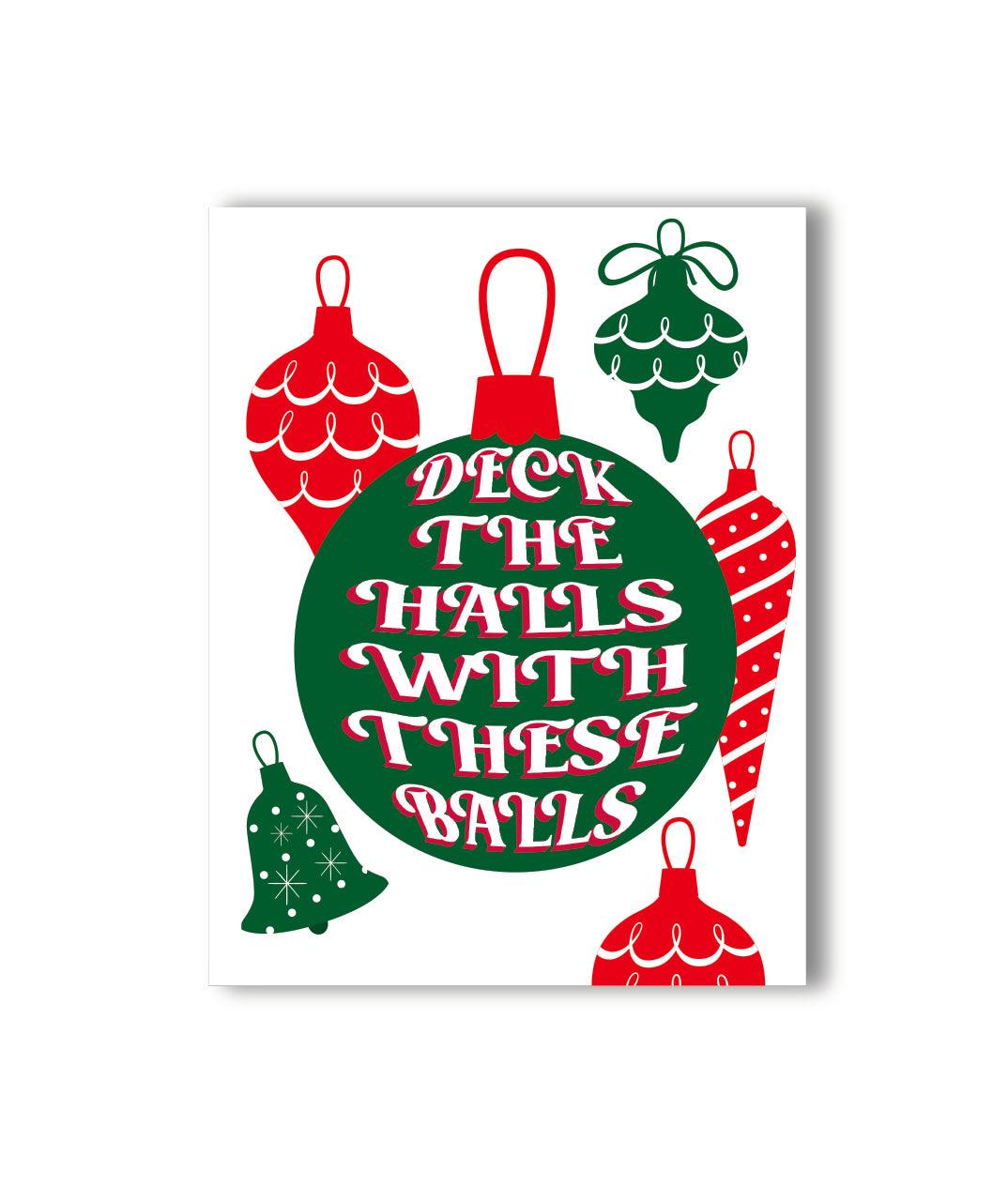 Wrapping Paper
Tired of boring gift wrap? Make any gift worthy of the 'gram.