Regular price
Sale price
$24.99 USD
Unit price
per
Sale
Sold out
🍋🌬️ Dive into a uniquely sweet experience with our "Bong Rips Kush Candle," a playful nod to laid-back vibes and sweet moments. Infuse your space with the whimsical aromas of cotton candy and lemon, blending nostalgia with a twist of citrus freshness. Crafted with care in the USA, this 100% soy wax candle ensures a clean and long-lasting burn, ideal for setting a relaxed and jovial ambiance. With a substantial 90-hour burn time and a substantial 13-ounce weight, it's a dependable source of light and aroma. The cotton core wick maintains a steady flame, bringing consistency to your moments of tranquility. Whether you're unwinding after a long day or hosting an intimate gathering with friends, the "Bong Rips Kush Candle" is your ticket to creating an atmosphere that's both comforting and playfully refreshing.
Why It's Lit:
🍬 Sweet Sensation: The delightful scent of cotton candy with a hint of lemon adds a unique, joyful fragrance to your space.
🇺🇸 Proudly Made in the USA: Quality craftsmanship ensuring a premium candle experience.
🌱 Eco-Conscious Choice: Soy wax is a cleaner, more sustainable option for environmentally mindful consumers.
🕯️ Long-Lasting Light: Perfect for those extended sessions of relaxation or socializing.
Embrace the sweet side of relaxation with the "Bong Rips Kush Candle," where whimsy meets tranquility. 🍭💨 #SweetEscape #KushCandle #RelaxInStyle
Product Details
Scent:
 Cotton Candy & Lemon  
Made with:
 100% Soy Wax
Burn Time:
 90 Hours
Weight:
 13 ounces 
Wick Type: 
Cotton Core Wick
View full details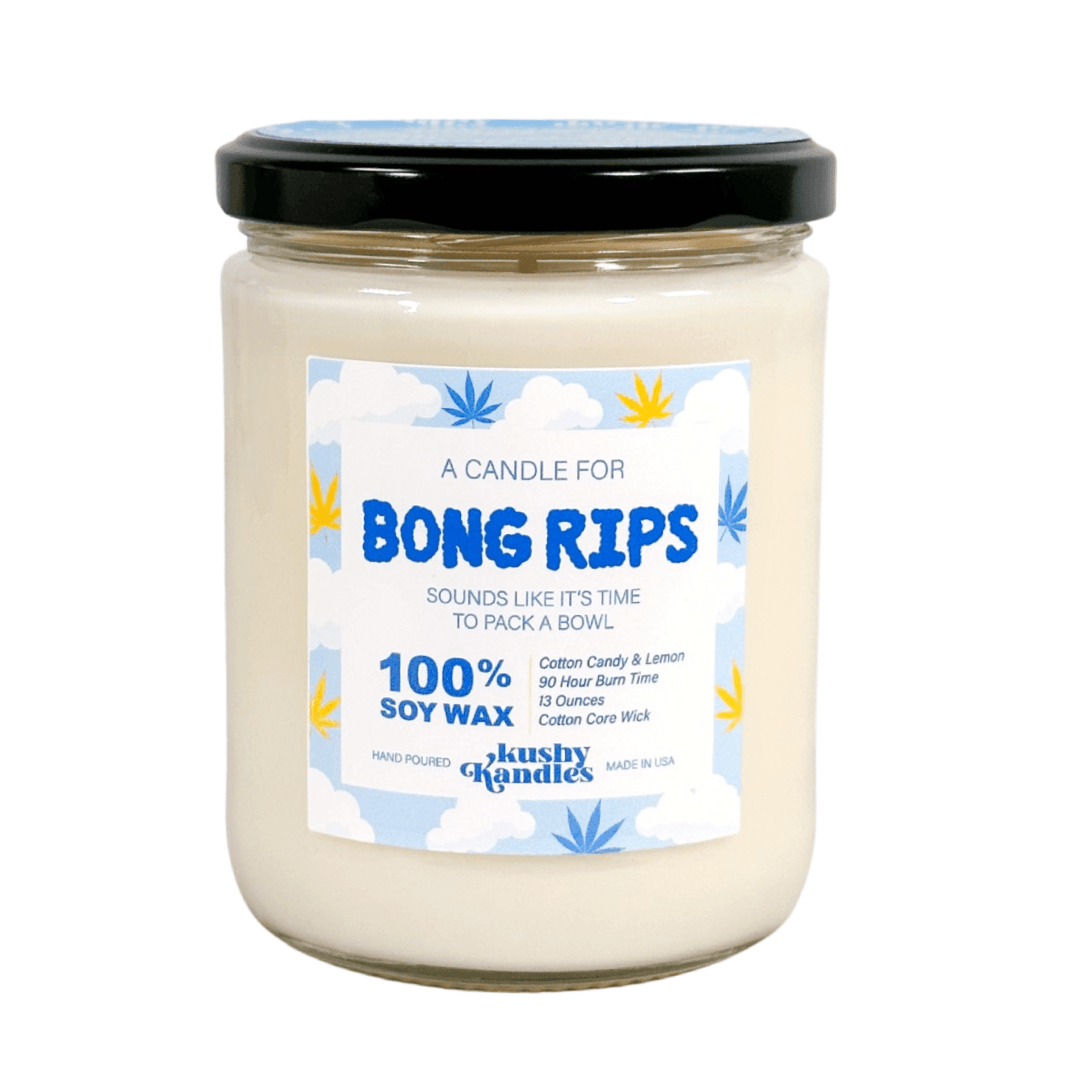 Wrapping Paper
Tired of boring gift wrap? Make any gift worthy of the 'gram.