Regular price
Sale price
$24.99 USD
Unit price
per
Sale
Sold out
🎂🔥 Light Up the Celebration in More Ways Than One!
Get ready to light up your special day with our Birthday Sex Candle! Crafted with passion, this candle is designed to set the mood with a delectable blend of Birthday Cake, Funfetti, and Vanilla Cream scents. It's not just a candle; it's an invitation to celebrate life's moments in the most aromatic way.
Why It's Lit:
🎂 Sensual Scents: Smells like Birthday Cake, Funfetti, and Vanilla Cream. Explore a world of indulgence with our Birthday Sex Candle. Each whiff promises to transport you to a haven of sweetness and celebration, making every day feel like your birthday.
📸 Picture Perfect: Setting the scene for those intimate Instagram snaps or passionate TikTok videos? This candle ensures a backdrop that's as sensual as it is scenic, adding warmth to every frame.
🎁 Gift of Passion: Looking for a unique and enticing birthday gift? Whether it's for your girlfriend or boyfriend, this candle promises to spark memories and ignite emotions.
🔥 Burn Bright: Our 100% soy wax candle boasts a 90-hour burn time, ensuring your special moments are beautifully illuminated for longer.
🇺🇸 Quality Craftsmanship: Hand-poured with love in the USA. Made with premium soy wax, our candle not only offers a cleaner burn but also champions sustainability, making it an eco-friendly choice for your celebrations.
✨ Playful Ambiance: Whether you're setting the mood for a romantic evening or just basking in self-love, the Birthday Sex Candle adds a playful twist to your ambiance, ensuring every moment is cherished.
Light up your moments with the Birthday Sex Candle. Grab yours today and revel in the intoxicating blend of aromas and emotions it brings to the table. Here's to birthdays, love, passion, and everything in between! 🎂🔥 #SensualScents #BirthdayBlaze #CelebrateInStyle #LightThePassion
Product Details
Scent: Birthday Cake, Funfetti, Vanilla Cream 
Made with: 100% Soy Wax
Burn Time: 90 Hours
Weight: 13 ounces 
Wick Type: Cotton Core Wick
View full details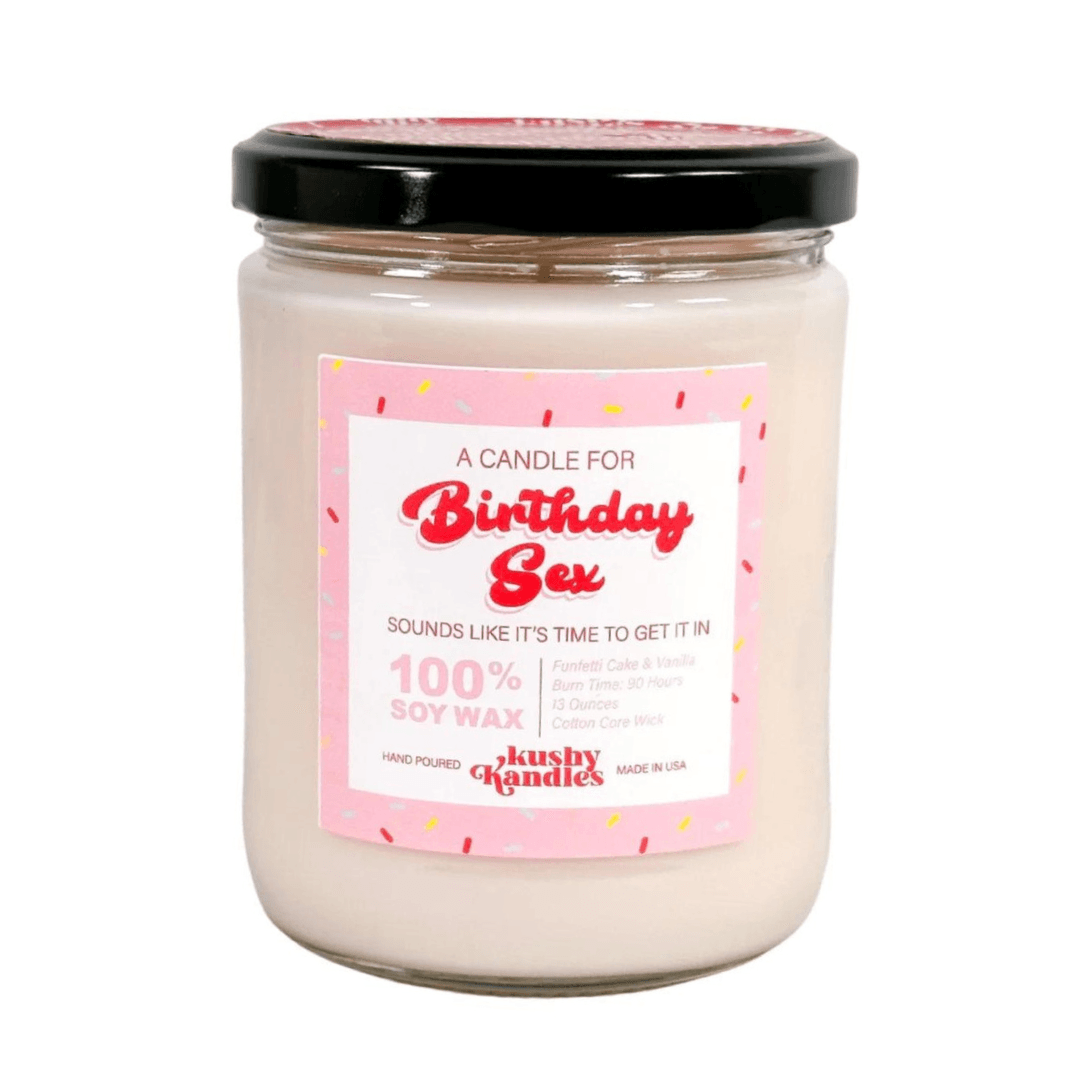 Wrapping Paper
Tired of boring gift wrap? Make any gift worthy of the 'gram.