Regular price
Sale price
$24.99 USD
Unit price
per
Sale
Sold out
🔮💛 Light up your quest for love and laughter with our "Future Dick Kush Candle." This audaciously named candle is a playful nod to the thrill of romantic predictions, perfect for those who enjoy a touch of cheeky humor in their daily rituals. Infused with a luscious blend of creamy vanilla, zesty lemon, and delicate lily, it's a sensory journey towards optimism and fun. Crafted from 100% soy wax, this 13-ounce candle promises a clean 90-hour burn, thanks to its cotton core wick. Whether you're setting the mood for a cozy night in or adding a bit of mystique to your space, let this candle be your guiding light to good vibes and potential romantic adventures.
Why It's Lit:
🍋 Invigorating Scents: The mix of creamy vanilla, lemon, and lily creates an uplifting and inviting aroma.
🕯️ Clean & Long-lasting: Enjoy a lengthy 90-hour burn time with a candle that burns cleanly and evenly.
😂 Witty & Whimsical: Perfect for those who appreciate a candle with character and a hint of playful fortune-telling.
🔮 Mystical Ambiance: Ideal for adding a bit of magic to your daily life or gifting to a friend in search of love's predictions.
Ignite some fun and anticipation with the "Future Dick Kush Candle" – because who doesn't love a little mysticism with their romance? 💘✨ #RomanticFortune #PlayfulPredictions #ScentedSorcery
Product Details
Scent:  Creamy Vanilla, Lemon and Lily
Made with: 100% Soy Wax
Burn Time: 90 Hours
Weight: 13 ounces 
Wick Type: Cotton Core Wick
View full details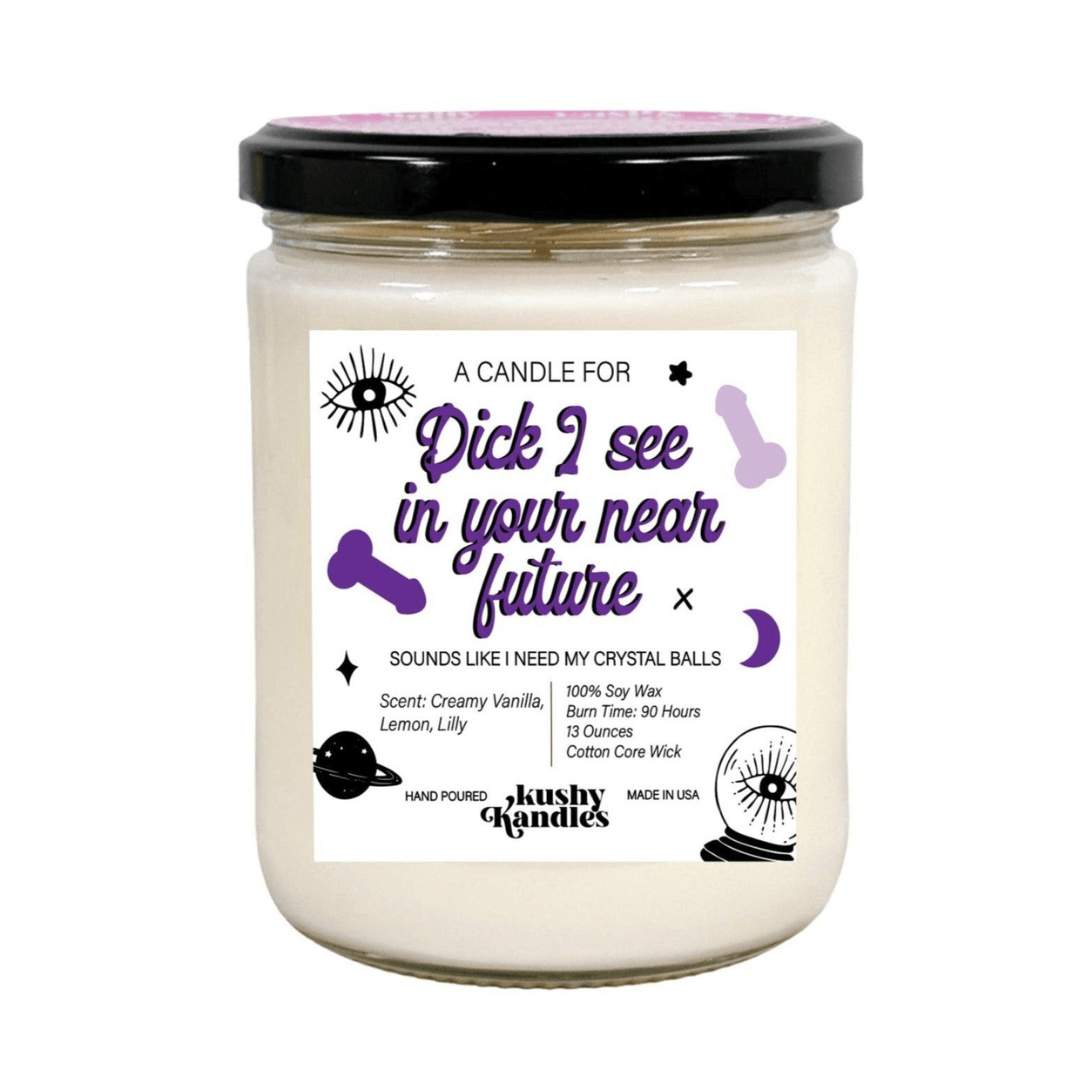 Wrapping Paper
Tired of boring gift wrap? Make any gift worthy of the 'gram.