Regular price
Sale price
$24.99 USD
Unit price
per
Sale
Sold out
🎅🏻✨ Spark Up the Holidays with Santa's Favorite Stoner Candle!
Transform your space into a festive haven with the Santa's Favorite Stoner Candle, exquisitely crafted to infuse your holiday moments with an aromatic blend of Christmas Spice, Pine, and Citrus. It's not just a candle; it's a holiday experience waiting to unfold.
Why It's Lit:
🎄 Festive Fragrance: Dive into the heart of the holiday season with scents of Christmas Spice, Pine, and Citrus. Each flame brings you closer to a festive fantasy, filled with warmth, joy, and the magic of Christmas.
🍊 Citrus Cheer: The refreshing zing of citrus adds a vibrant twist to the holiday season, ensuring your space is as lively as it is aromatic.
🎁 Stoner's Surprise: Searching for the perfect gift for your favorite cannabis enthusiast? Look no further! This candle is set to light up their world and add a spark of festivity to their holiday celebrations.
🔥 Long-Lasting Light: With a 100% soy wax blend, this candle boasts an impressive 90-hour burn time, ensuring your holiday moments are illuminated for longer.
🇺🇸 Crafted with Care: Hand-poured with love in the USA, our candle ensures a clean burn and supports sustainability, all while delivering a high-quality aromatic experience.
🌲 Pine Perfection: The robust scent of pine wraps your space in a cozy, festive embrace, creating a holiday ambiance that's both invigorating and comforting.
Ignite the holiday spirit with the Santa's Favorite Stoner Candle. Whether you're setting the mood for a festive gathering or simply basking in the holiday cheer, this candle promises to add a playful, aromatic touch to your celebrations. Grab yours today, and let's make this holiday season the most lit one yet! 🎄🎅🏻 #StonerSanta #FestiveFlame #HolidayHigh
Product Details:
Scent: Christmas Spice, Pine, and Citrus
Made with: 100% Soy Wax
Burn Time: 90 Hours
Weight: 13 ounces
Wick Type: Cotton Core Wick
View full details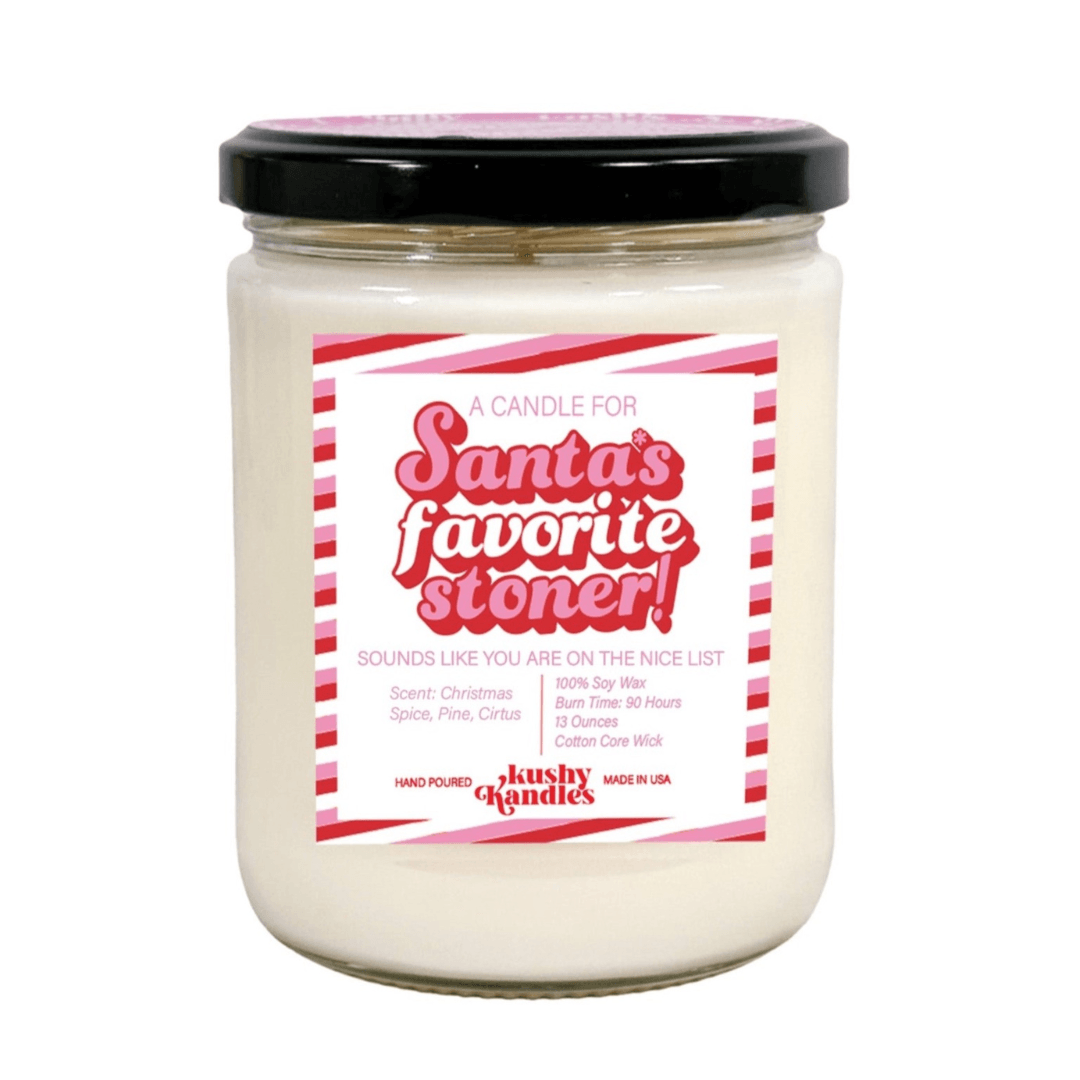 Wrapping Paper
Tired of boring gift wrap? Make any gift worthy of the 'gram.